CFCU More is an additional platform of banking tools and services to complement CFCU's Digital Banking online and mobile platforms. Use CFCU More to control your CFCU debit card(s), send money to friends and family, pay bills, and make external transfers. Stay tuned for even more upcoming capabilities!
Why We Have Two Platforms
In the future, we plan to move our Digital Banking to the CFCU More platform. At that time, CFCU More will be the only platform with all of CFCU's tools and services in one place. However, converting Digital Banking to the new platform will take time and we did not want our members to wait for the convenient banking technologies that the new platform already provides so we made it available early. In the meantime, we will continue to add more capabilities within CFCU More as they are ready.
Why We're Changing Platforms
To continue to provide the best service to our members, we're planning ahead for the future of banking. The framework behind CFCU More provides a strong foundation for us to greatly increase our agility and flexibility so that we can provide the latest and greatest banking technologies to our members at a much faster pace, making your financial lives even easier.
Banking for THIS Moment!
Register today to start using the great tools already available.
DIRECTIONS
To register you will need your Member Number* and additional personal identifying information.
Access CFCU More by entering

digital.mycfcu.com

into your browser or download the CFCU More app in the

Apple Store

or

Google Play Store

and click on "Enroll".
Once you are registered, you can access our new services from either the app or the website.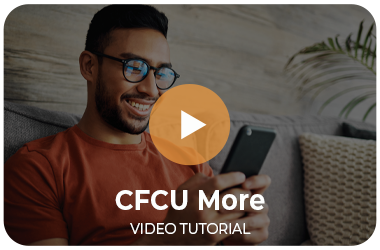 ---
Tools and Services Available in CFCU More

Pay and manage your monthly bills from one place online.
Use Bill Pay to pay bills immediately, schedule a future or recurring payment, view history, and more.
*A checking account is required for this service.

Card Controls allow you to easily change your pin, add travel exemptions/alerts, and freeze or activate your debit card anytime, from anywhere.
Debit Card Controls FAQs
What cards can I access in Card Controls?
You will be able to access any CFCU Debit Card that is issued in your name that is in an active or issued status.
Can I see a joint signer's card?
No, you will not see a joint signer's card. The joint signer will need to register for CFCU More to use Card Controls and make changes to the card issued in their name.

Pay-a-Person allows you to pay friends and family easily. This service replaced Popmoney.
Pay-a-Person FAQs
Why Did CFCU Change from Popmoney?
Our Popmoney provider ended the service effective December 2nd, 2022. CFCU took this opportunity to move to an enhanced system called Pay-a-Person or P2P for short.
Are my recipients in the new system?
Due to limitations with Popmoney, we couldn't transfer your saved recipients into the platform.
We recommend you confirm your recipients preferred email and/or phone number so you can add them easily.
How do I access the new Pay-a-Person service?
Pay-a-Person is available in CFCU More. Once you have signed up and are logged in, just look for the Pay-a-Person icon.
I have a business account and used Popmoney, can I use the new Pay-a-Person service?
Pay-a-Person is intended to transfer funds between two individuals and not designed for business usage.
If you are looking for an electronic option to transfer funds to individuals, we recommend CFCU's ACH processing services for businesses. Please Contact Shine Gonzalez, our Business Development Specialist, for more information.

External Transfers allows you to transfer money in and out of your CFCU accounts to your accounts at another institution.
External Transfers FAQs
Why is there a new External Transfer option?
The new option offers an enhanced experience for our members, including options to add new accounts with your log in credentials for the other Financial Institution instead of verifying micro deposits. If your other Financial Institution participates in Plaid, you can add a new account and initiate the first transfer on the same day.
How do I access the new External Transfer service?
External Transfers is available in CFCU More. Once you have signed up and are logged in, just look for the External Transfers icon.
Can I transfer to any account?
External Transfers is intended to move funds efficiently between your own accounts at multiple financial institutions. If you are looking to transfer funds to another person, check out our Pay-a-Person service. If you are looking to pay a merchant, biller or business try our bill payments service.