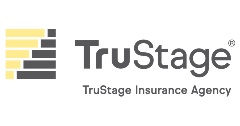 As a CFCU member you receive exclusive perks, including access to AD&D and Life insurance brought to you by TruStage Insurance.
View insurance options below to learn about your current coverage and more.
AD&D Insurance
Accidents can happen anytime. Don't leave them unprepared.
Your untimely accidental death could leave your family with long lasting financial burdens. Accidental Death & Dismemberment insurance can help give them a safety net.
How does it work?
As a member of CFCU Community Credit Union you are eligible to enroll for $1000 of no-cost TruStage® Accidental Death & Dismemberment Insurance underwritten by CMFG Life Insurance. AD&D insurance can pay a cash benefit to your beneficiary if you die in an accident or suffer a serious injury.
What's covered?
Once you enroll, AD&D insurance pays a cash benefit to your beneficiary if you die from an accident or you are seriously injured. Credit union members ages 18 and over can also choose to increase their protection (Member Only Plan) or their family's (Family Plan) with up to an additional $300,000 in coverage.
Acceptance is guaranteed and there are no medical questions.
Enroll today at www.TruStage.com/ADD
ADD-1607689.1
Life Insurance
Expect the best out of life, but be prepared.
You've always done what's right for the ones you love. Taking steps to ease the financial burden if you were to die is just one more way to show you care.
What's covered?
TruStage® Life Insurance pays an income-tax free, cash benefit that your family can use for any reason—like funeral expenses, mortgage payments or unpaid debts.
What are the advantages?
TruStage helps make it easy to compare insurance and explore options you can afford—so you can make a good decision today for your family:
Don't wait another day to be prepared.
Get an instant quote online today. Or, call 1-800-814-2914 and talk to a licensed agent.
A Tradition of Strength
1CMFG Life Insurance Company is rated "A" (Excellent) as of February 2020 by A.M. Best, an independent rating service which evaluates financial stability and operating performance, year after year. An "A" rating is the third-highest of 16 ratings.
*Savings validated by 2019 countrywide survey of participating new customers who switched to Liberty Mutual. Savings may vary. Comparison does not apply in MA. Coverage provided and underwritten by Liberty Mutual Insurance or its subsidiaries or affiliates, 175 Berkeley Street, Boston, MA 02116 USA. © 2020 Liberty Mutual Insurance.
TruStage® Insurance products and programs are made available through TruStage Insurance Agency, LLC. Life insurance and AD&D insurance are issued by CMFG Life Insurance Company. The Auto and Home Insurance Program is issued by a leading insurance company. The insurance offered is not a deposit, and is not federally insured, sold or guaranteed by any depository institution.
Corporate Headquarters 5910 Mineral Point Road, Madison WI 53705

© Copyright 2020, TruStage. All Rights Reserved.
GEN-2986949.1-0320-0422