Use CFCU's New Loan Payment Portal
With CFCU's new loan payment portal, paying your CFCU loan is now even easier.
Payment Portal Directions for First-Time Users: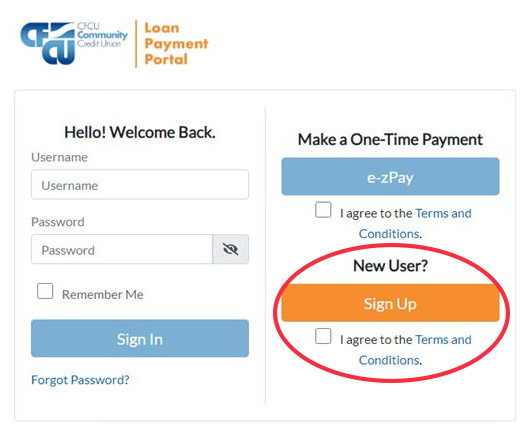 Click on the "Make a Loan Payment" link located in the orange bar at the bottom of your screen from any page on our website.
Click on sign-up and accept terms and conditions.
Create login credentials that you will use every time you sign-in to the payment portal.
*Login credentials for the Loan Payment Portal are not the same as your Digital Banking credentials.
Follow instructions on the screen after that to make a payment to a CFCU loan from any account.
Set-Up Automatic Payments
In the future, you will also be able to set-up automatic payments through our new payment portal. Until then, here are additional ways to set up automatic payments.
From your CFCU deposit account through CFCU Digital Banking.
From another financial institution.
Additional Ways to Pay Your CFCU Loan
Make a transfer from your CFCU account to your CFCU loan using Digital Banking. Use our instructions for help.
*You will need to use the payment portal to make a digital transfer if you want to pay from a non-CFCU deposit account.
Stop in any of our branch locations.
Mail a check to CFCU Community Credit Union, 1030 Craft Rd, Ithaca, NY 14850 (coupon books won't be issued).
You can pay your CFCU credit card through the Loan Payment Portal. You can also view and pay your credit card in CFCU's Digital Banking (click on 'Accounts', then 'Credit Card Access') or send a check.
If you have a CORE FCU Credit Card, find a link to the CORE Credit Card Payment Portal here.
HOME MORTGAGE DISCLOSURE ACT NOTICE
BORROWER COMPLAINTS AND INQUIRIES
CFCU is registered with the New York State Superintendent of Financial Services. You may file complaints and obtain further information about CFCU by contacting the New York State Department of Financial Services Consumer Assistance Unit at 1-800-342-3736 or at www.dfs.ny.gov.